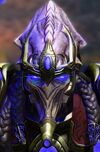 Praetor Rhevnis is the leader of the elite Saven'Rii preator guard of the Rhel'Kaeli Tribe. Rhevnis has been trained by many clan philosophies, most notably the Boros, Tal'Sana, and even limited training in the psionic and martial arts of the legendary Shadun'Hasai.
Ad blocker interference detected!
Wikia is a free-to-use site that makes money from advertising. We have a modified experience for viewers using ad blockers

Wikia is not accessible if you've made further modifications. Remove the custom ad blocker rule(s) and the page will load as expected.